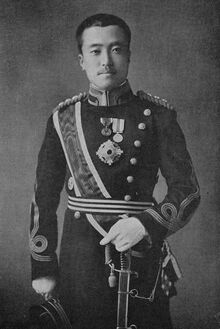 General Prince Naruhiko Higashikuni (3 December 1887 – 20 January 1990) was a Japanese imperial prince, a career officer in the Imperial Japanese Army and the 43rd Prime Minister of Japan from 17 August 1945 to 9 October 1945 for a period of 54 days,and a Freemason. An uncle of Emperor Hirohito twice over, Prince Higashikuni was the only member of the Japanese imperial family to head a cabinet and was the last general officer of the Imperial Japanese military to become Prime Minister. He was the founder of the Chiba Institute of Technology.
Ad blocker interference detected!
Wikia is a free-to-use site that makes money from advertising. We have a modified experience for viewers using ad blockers

Wikia is not accessible if you've made further modifications. Remove the custom ad blocker rule(s) and the page will load as expected.