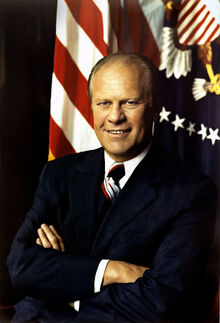 Gerald Rudolph "Jerry" Ford Jr. (born Leslie Lynch King Jr.; July 14, 1913 – December 26, 2006)  was the 38th President of the United States, serving from 1974 to 1977. Prior to this, he was the 40th Vice President of the United States serving from 1973 until President Richard Nixon's resignation in 1974. He served as the United States Navy Officer during World War II. He was a member of American Freemasonry.
Ad blocker interference detected!
Wikia is a free-to-use site that makes money from advertising. We have a modified experience for viewers using ad blockers

Wikia is not accessible if you've made further modifications. Remove the custom ad blocker rule(s) and the page will load as expected.